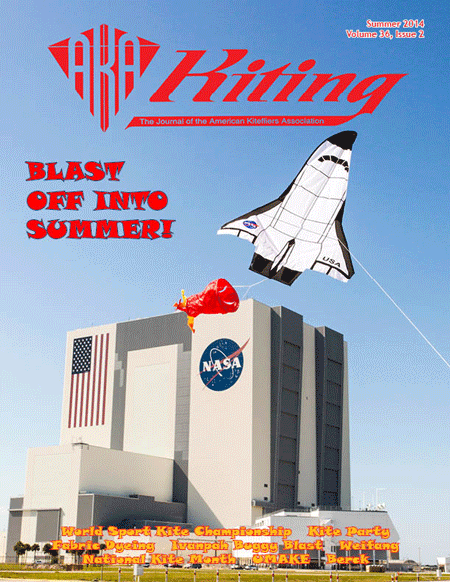 Kiting is a beautiful full-color magazine issued 4 times a year to all current members. Also check out the online-only
Kiting+
Home

Kite Talk Forum

Public Forum

Festival News

Wildwood Int'l Kite Festival 2013
» Wildwood Int'l Kite Festival 2013
Page
Start
Prev
1
Next
End
Wildwood Int'l Kite Festival 2013
Wildwood Int'l Kite Festival 2013
Hi everyone,

Yes indeed, Wildwood 2013 is on!!!

I'm quite sure Wildwood feels very lucky this year – Hurricane Sandy passed it by and all is well in the land of "watch the tram car please".

At this point, much of this year's event will mimic last year. One exception to that is that the simultaneous event that took place last year is not taking place this year. Hopefully this means we will have the Convention Center back for full indoor flying activities.

The registration form should be complete near the beginning of March and will be posted on the Sky Festivals web site. And as always, as there are updates I will post them on the three major forums (AKA, Kite Builder and Rev).

One note of importance - you may wish to book your room early as Wildwood is expecting a heavy turnout due to many of the northern shore towns' destruction from Hurricane Sandy.

Keep warm during these next few weeks and keep dreaming of the warm weather that is soon around the corner!

All my best,
Beatrix
Administrator has disabled public posting. Please login or register in order to proceed.
Re: Wildwood Int'l Kite Festival 2013
Hi everyone,

I hope this posting finds you all well!

Here are a few short updates on the event . . .

Without further adieu, attached please find (if it's possible to attach to this forum) the WIKF 2013 Registration Form. Please note, the registration form is available on the Sky Festival Productions web site and will also be available on the Eastern League web site.

Much of this year will mimic last year with the exception of the event that took place last year, the "Celebration of Heroes" will NOT be taking place this year. That frees some things up but keeps other things the same . . .

The World Indoor Kite Competition will be taking place on Monday, though it's looking like we will not have access to fly indoors on Saturday and Sunday – I'm still working on this one so keep your fingers crossed!

Our Sunday evening dinner will once again take place at Little Italy at 7:00pm and more details will follow as we get closer to the date. For those of you attended last year, this year will mimic last years. PLEASE ENSURE that when you complete your registration forms you notate if you'll be attending the Sun night dinner as I MUST provide the restaurant a head count.

On site registration will take place at the Festival Field Tent along with Kite Sales, all beginning on Friday through Sunday.

DON'T FORGET, if you haven't already made your lodging arrangements, I'd do so sooner rather than later as Wildwood is expecting a heavy turnout due to many of the northern shore towns' destruction from Hurricane Sandy.

I'll be in touch again in a few weeks for more updates!

Warmly,
Beatrix

WIKF-13-Reg-Form.pdf

WIKF-13-Reg-Form.pdf
Administrator has disabled public posting. Please login or register in order to proceed.
Re: Wildwood Int'l Kite Festival 2013
Hi all,

Well, we're only two weeks away from Wildwood, yee-haaaaa!

In the spirit of not bombarding you all at one time, I'll provide some info to you now and again in a few days. To start with, please note the following:


Registration:
If you haven't already done so, PLEASE, complete your registration forms and get them to me. Registration is free unless you are competing;


Friday's Activities:
The day beings with the official Unlocking of the Beach at 12:00pm with many of the local officials and media. If you're here, throw up a kite or two for the media to get a shot of and who knows, perhaps you too will have your five minutes of fame with a live television interview!

The Kite Sales Tent will open at 3:00pm through ???pm and registration begins at 4:00pm through 6:00pm.

As usual, our tried and true local club, the SJKF, will be hosting the Friday night social pool-side at our host hotel, The Oceanic. For just a mere $10, enjoy a feast of fine, eclectic foods prepared by your peers! Enjoy some fine camaraderie, food and don't forget SJKF's raffle's!

Directly following the SJKF social is the Nite Kite show – bring out your favorite kites, throw some lights on them, enjoy the music and thrill the boardwalk on-lookers with your beautiful kite.


Sunday evening dinner:
Our Sunday evening dinner gathering will mimic last year and will take place at Little Italy (our past years' normal Monday evening spot) at 5401 Atlantic Ave., Wildwood Crest at 7:00pm. Take a leisurely seven-block stroll with the gang as we meet up on the front stoops of the host hotel, drive yourself down, or hop on the infamous tram car. Keep in mind, this is the area's opening weekend and the restaurant will be VERY busy – they are doing us a true favor in even taking our large group and they will attempt to accommodate us as best as possible. Having said this, there are a few items you may wish to note . . .
* please, be sure to indicate if you are attending on the registration form as I must provide the restaurant with a head count;
* Wildwood Crest is a dry town – if you'd like to engage in consuming adult beverages, there is a liquor store 1 ½ blocks away;
* while our reservation is for 7:00pm, there may be a slight delay;
* for those of you who attend Monday evening's dinner here, you know we usually have the back room though we may not have the room all to ourselves;
* all tables must be full, i.e., if there is a four-top then one party of four or two parties of two need to fill the table; if there's three folks for a four-top, then I wouldn't worry too much about the fourth seat;
* each party, not each individual may request their own check; keep in mind this will take your order a few more moments to get to you;
* the full menu will be available for you to order from, there are no restrictions nor a set menu;
* because we will be a large party, 18% gratuity will automatically be added to each party's check


Auction:
While we have some fine and exciting auction items up on the block this year, we could always use more and are very, very appreciative of any and all donations. Perhaps you'd like to get creative and build a little something to include. Or perhaps you have a piece or two lying around you've been thinking of forfeiting. The auction is a fundraiser that supports the event and is a crucial aspect to the events success and continuation – thank you for considering!

As always, sincere thanks to all who participate and attend, with a special thanks to the entire Operations crew whom without them, the event definitively would not take place – kudos to all of you!

Until next time,
Beatrix
Administrator has disabled public posting. Please login or register in order to proceed.
Re: Wildwood Int'l Kite Festival 2013
Hi everyone,

Ok, this is just about the time where I begin getting really excited – just a few days away from the festival now!

Here are some additional updates . . .


ECSKC:
* As I'm sure you know, the Chief Judge this year is Will Smoot - thanks Will, we're glad you're on board with us this year!

* Activities in Fields 3 & 4 have been changed this year; Field 3 is now the Sport Kite Competition and Field 4 is the Learn To Fly field;

* Sport kite demo's are taking place both Saturday and Sunday at 1:00pm on Field 1. Why not show off your stuff with 100% of the attention being place on YOU and your routine? Kindly bring your music ready to go with your name on it to the Festival Field tent, Operation's side by 12:30pm the day(s) you are strutting your stuff!

* When you see Jared Haworth over the weekend, you may wish to shake that man's hand - he has worked tirelessly with me to make all of the changes that are taking place this year - thanks so much Jared!


Indoor:
* While there's no indoor kite flying taking place on Saturday or Sunday, the World Indoor Kite Competition will be taking place on Monday. Practice is from 9:30am-11:00am with competition beginning at 11:00am. All kite flyers MUST be out of the Convention Center no later than 1:30pm.

* Should you decide last minute to compete on Monday morning for the indoor competition, there will be no option for paying - All indoor competitors must be registered no later than Sunday, 2:00pm.


Learn To Fly field:
* There's a couple of things taking place on the Learn To Fly field this year. The Learn To Fly section of the field will be spearheaded by the Cary family. Skydog Kites and HQ Kites will be present as well. For any of you who would like to assist, it would be very much appreciated. This is a big endeavor they are taking on and if our collective goal is to get more folks involved in kiting, we could certainly use everyone's help. If you've got some time on your hands or are waiting to compete, why not step over a field for a few minutes to see if you can help someone out. Remember how it was for each of us the first time we stepped out onto a kite field?

The other thing that's taking place on the Learn To Fly field is something new called "Passport to Flight". This is an educational venture spearheaded by Glenn Davison with the assistance of Meg Albers, Archie Stewart, Andy Selzer and Todd Little. The area of the field Glenn's crew will be using will be marked by a "LESSONS" wind feather that Glenn's made. The idea here is that each participant will get their own "passport" which will include information on how to fly a kite, kite safety, a bit of kite history and information on the AKA. With the passport, the participant will try four different kinds of kites. For each kite they try, the passport will get stamped. If the participant succeeds and get's all four stamps, they'll receive their very own pilot card. Additionally, the first 25 participants each day will receive a FREE kite kit. This is yet another way to get folks involved in kiting!


Other miscellaneous stuff:
* If you have registered on line for a discipline which requires payment but have not sent in payment prior to Saturday, May 11, please note, this is NOT considered "pre registration" - per the registration form and, for those of you who follow the Eastern League, Jared's previous email communications/postings, " * On Site Registration includes registrations that have been sent or emailed in advance but have not been paid. "

* Field 1 has activities taking place all morning long, from 9:00am – 2:00pm both Saturday & Sunday. This is the field that my loyal Rev folks seem to always migrate to <smile>. Please, note that Field 2 is completely open to you during this time frame and once all of the activities are done at 2:00pm on Field 1, feel free to move yourself over to Field 1. We really do need to keep Field 1 open for the activities which the sponsor of the event is expecting to see – if we want this event to keep coming back every year, the client must receive what they're asking for – your understanding and diligence in this is appreciated.

* The kite sales tent will be open beginning on Friday at 3:00pm-????pm and then again on Saturday and Sunday from 9:00am-5:00pm. Why don't you stop by and take a gander at the offerings?!


Well, that's it folks, please travel safely and I truly look forward to seeing each of you in a few days!

Warmly,
Beatrix
Administrator has disabled public posting. Please login or register in order to proceed.
Re: Wildwood Int'l Kite Festival 2013
Hi everyone,

I have a POTENTIAL need and opportunity for an experienced kite flyer to be paid to fly a Rokkaku on Sat & Sun from approximately 9:00am - 5:00pm during WIKF. This is basically a kite-sitting job where one would be flying a Rokkaku for a potential client who will be located on the Boardwalk On The Beach. The kite flyer would be flying the client's custom logo made Rokkaku near them.

If you are interested, kindly reply to this email asap and please note, this is on a first-come basis.

Thanks much and I look forward to hearing back from you!



Warmly,

Beatrix
Administrator has disabled public posting. Please login or register in order to proceed.
TBHinPhilly
Administrator has disabled public posting. Please login or register in order to proceed.
Page
Start
Prev
1
Next
End
» Wildwood Int'l Kite Festival 2013
There are 0 guests and 0 other users also viewing this topic
Board Stats

Total Topics:

1576

Total Polls:

11

Total Posts:

7359

Posts today:

1
User Info

Total Users:

4317

Newest User:

Members Online:

5

Guests Online:

6630
Powered by Agora Pro 4
© Copyright 2007 - 2014 jVitals! All rights reserved.