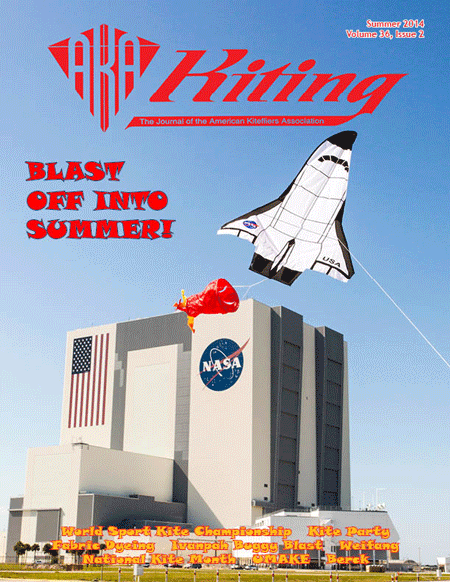 Kiting is a beautiful full-color magazine issued 4 times a year to all current members. Also check out the online-only
Kiting+
Home

Kite Talk Forum

Public Forum

Kite Making

Ever made a Japanese kite?
» Ever made a Japanese kite?
Page
Start
Prev
1
Next
End
Ever made a Japanese kite?
Ever made a Japanese kite?
Japanese Kites: Crafts Workshop and Lecture

When: Tuesday, October 22, 2013 at 7:00pm
Where: Japan Foundation Los Angeles, Wilshire Courtyard, 5700 Wilshire Blvd. Suite 100, Los Angeles, CA 90036
Description: Make a Japanese kite! This workshop will be conducted by Japanese Kite Master Mikio Toki. He introduces the history of kites in Japan and the materials and techniques used to build and decorate them in the Japanese style. Then, there will be a hands-on workshop that introduces participants to Japan and Japanese culture through the building of a small, traditional Japanese kite made of bamboo and washi (Japanese paper). Children with guardians are welcome to participate. RSVP required.

For more information visit: http://www.jflalc.org/japanese-kite-lec … kshop.html
For reservations visit: http://jflalc.org/index.php?section=cal … ent_id=260
JapanFoundationLA
Administrator has disabled public posting. Please login or register in order to proceed.
Page
Start
Prev
1
Next
End
» Ever made a Japanese kite?
There are 0 guests and 0 other users also viewing this topic
Board Stats

Total Topics:

1576

Total Polls:

11

Total Posts:

7358

Posts this week:

6
User Info

Total Users:

4315

Newest User:

Members Online:

1

Guests Online:

7834
Powered by Agora Pro 4
© Copyright 2007 - 2014 jVitals! All rights reserved.