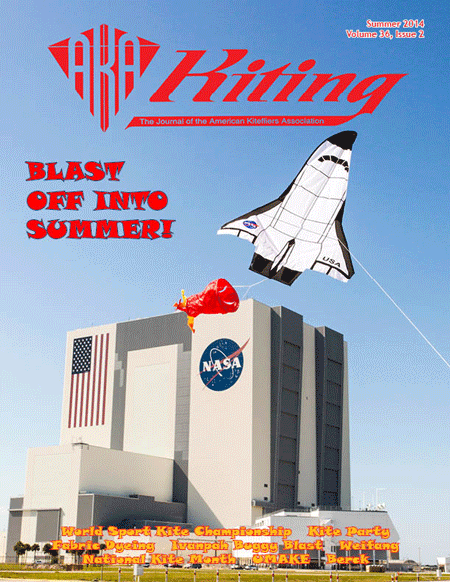 Kiting is a beautiful full-color magazine issued 4 times a year to all current members. Also check out the online-only
Kiting+
Home

Kite Talk Forum

Public Forum

Indoor Flying

Rules for indoor
Re: Rules for indoor
I think that a competition of single line indoor kites may become a contentious judging matter in the AKA. There are gossamer winged kites like the IFlites that handle vastly differently from a Longbottom Pterodactyl. Tethered kites behave differently than Wala's and Emongs. The latter two handle differently than Skates. If you add Plutz's and their variants, Horvaths, stacked kites and fighters in this group, the variations in flight characteristics and pilot skills challenges responsible judging. Competition raises the performance bar, stimulates the development of kites and new technique. But in an event, I think aggressive styles of flying are always going to garner more points than the stately, restrained (one might argue "sleepy")methods of kite control. My suspicion is that indoor single line competitions will become the province for agile flyers who will try to emulate dual line maneuvers. I fear that glider pilots will drift away from competitions, relegated to the "also ran" status in the scoring. Ultimately, it is the pilot that is judged as opposed to the actual flight of the kite. Like other sporting events, there are forms of competition that reward bursts of energy, and those that reward smooth motion. I recommend that the judging of indoor single line kites be categorized in order to reward those people who use differently flying kites, and to free judges from equating dissimilar flying styles.
Cpt. A.

Post Script: It bothers me that I am the poster in so many categories with so little activity from the membership. This has changed my view of the AKA in the year I've been involved. If the membership is migrating to some other social media site to discuss kiting and kiting politics, then I, who wish to be a part of the community, feel like a fool for the effort I've put into supporting the forum with my contributions, feeble as they may be. Too, if this migration to another venue is actually what is going on, then what does that say to anyone who would even think about joining the AKA? Would the American Automobile Association do anything of the sort?
Administrator has disabled public posting. Please login or register in order to proceed.
Re: Rules for indoor
@ Cpt'n A great points about the Kite, the flier,the music and single line competitors all in the same mix.
I think it makes sense to break out multi and single into separate categories. Indoor kite activities have accelerated in the recent years because of quad and there's nothing wrong with that , it just seems that quad has become the most popular choice. Maybe there should be three categories, quad, dual and single. The sport kite committee has been super involved with rule writing over the past several months, I doubt that they are in a position to tackle bold changes at this point in time.

About your P.S. comments, Our leaders feel that social media is the future for our organizations growth and there's little or no effort to divert people to our own web site. It's a complicated problem, many members and NON members post on our facebook site and never come to this site, actually there isn't much to attract them. The challenge is to get people to join the AKA and not just frequent our facebook for the free ride.
Another difficulty we have is competing against specific web sites that specialize in various kiting activities such as Kitelife, kitebuilder,com, fighter kite central.com, KAP . done with the wind and more. These are reasons why our forum's are dormant.

Cap't A thanks for trying to create some interest with your posts.

CLIFFORD
Administrator has disabled public posting. Please login or register in order to proceed.
Re: Rules for indoor
Clifford, thanks for the reply. I suppose it will take a wholesale hacking of everyone's Facebook accounts to send them scurrying back here. If membership is always the issue, then perhaps a contingent of our young turks could make a statement at an upcoming X-Games, either invited as an exhibition, a competition or just hanging about impressing with precision.

Glenn
Administrator has disabled public posting. Please login or register in order to proceed.
Re: Rules for indoor
Capt. A - as a comment on indoor - it's always been a problem finding space to either practice or hold events!! Sure you could rent a convention center, but you'd have to charge the entrants an arm or leg to offset the costs involved!! Lucky for me, I have found a place to fly, pretty regularly, but I really had to search for it!! Schools have been a really tough nut to crack, with every kind of fee to even get in the door! Up in the NW, we lost 2 indoor fests at schools, over expenses and other things!! Frustrating for sure!!

As for social media - I'm guilty as charged! I frequent the Rev forum, Kitelife, and FB much more than I come here! Just seems to be more info on those places than here!! Not a knock, just an observation!!
Administrator has disabled public posting. Please login or register in order to proceed.
Re: Rules for indoor
Hi Permalink! What gets me is that there is only so much that you can discuss in kiting. It is a mature technology, limited by a fixed number of basic designs and highly repetitious, as judged from videos of kite festivals. So, why go away from the organization in order to do what the organization should be doing...communicating, teaching and comradeship. What gets me also is that we members pay to keep this and the other new web site alive and then shun using them. I understand the attraction of people wanting to immortalize themselves on FB. As far as Rev Forums and the rest, who would know where to look? I'd look at the AKA!

This brings me back to the indoor flying, and your comment about venues. To me, the only way to crack that nut is by the interested members and their regional directors making use of the AKA forums and email to join and support each other. I'm certainly not going to troll FB for kindred spirits, and I don't know where an indoor forum exists outside of here. I do believe that there are people who have found indoor places to fly. I do believe that a community event associated with the AKA's prestige is likely to garner more approval that not.

Finally, thanks for the courtesy of a reply. At a certain age, a thoughtful response means a lot. Thank you.
Administrator has disabled public posting. Please login or register in order to proceed.
Re: Rules for indoor
Thank You!! We might have met at WSIKF last year!! I was one of the Rev fliers in the 81 fly! I always wear a bright blue hat and also wore goggles to keep the sand out of my eyes!! Or at the indoor, I flew Weds, Thurs, and Fri nights! Weds with both a Rev in one demo and then using several gliders in the other, Thursday night was SLK gliders only, I used 2 gliders, both on short wands! Friday I used a Rev mostly, but I finished with an iFliteII!

We have a fairly strong comp situation up here, with the NW Sports Kite League! We experimented with the single kine gliders as a separate discipline to have them on a more even playing field! They can still compete in open comps, but have their own dedicated comp too! Many of the same rules apply - out of bounds, choreography, crowd appeal!

We also have an improved situation over places to fly!! In the Seattle area, there have been several churches and gyms that have opened up a couple of times a month for open flying!! If you time it right, you get at least a once a week thing!! But still haven't got enough comps yet! In fact over the last few years, we've lost 2, both in schools!!

Here in Portland, Oregon, I've got nearly the exact opposite problem - no comps, but a place to fly! I use an indoor soccer center several days a week! But the hours aren't ideal for working people to get there! Or the time frame means traffic is a bear! But still no local comp scene! I'm guessing if you could throw enough money at it, you could make something happen, maybe!! But entry fees would be nuts and there's the problem - no places readily available to use, either to practice or compete!! Been that way for many years, if I read any threads on this subject!!

Name is Wayne, screen name is stroke survivor, I answer to either!! I will make a bigger effort to use here a bit more often, but I still use the other places a lot!!
Edited by: stroke survivor - 26-Feb-2014 09:46:25
Administrator has disabled public posting. Please login or register in order to proceed.
Re: Rules for indoor
Hi Wayne, I flew the Emong at WSIKF13 indoor. I think that a European model for judging indoor events would pay dividends. The concept is that each contestant is judged compared to what the judge considers to be ideal example of that kite's capabilities. Everyone starts with a perfect score and deductions are made for imperfection. In this way, my Emong flight would not be compared to your tethered glider. Now for the hard part! In this model there can be any number of first place awards, since each kite is a category unto itself. It denies top dog bragging rights, unless a " Best of Show" award is made. In my opinion, indoor kiting is a niche activity. Aggressive competition is not going to advance the hobby,nor attract serious sponsorship. So, why not award personal best effort and growth? After all, this is kiting for Pete's sake! The biggest single challenge is the caliber of judges needed. Perhaps contestants may also be expected to judge kite types other than their own.
Administrator has disabled public posting. Please login or register in order to proceed.
Re: Rules for indoor
Unfortunately that idea isn't being used here in the NW! At least single line gliders are in their own comp! Imagine competing against the sport kites every time out!

I have had discussions with people over different ways to judge events, seems to be no consensus on any one way! With your idea, there is no "winner" and that seems to go against present thinking! Might be a cultural thing, but we seem to want someone to be that "top dog"! If I had my way, it would be nothing but demos, keeping everyone equal! No "winner"!! Might improve the atmosphere and encourage more to participate, instead of being afraid to fail!! I've gotten to a point, that I treat every comp as just another demo! I don't expect to win, just have fun flying!
Administrator has disabled public posting. Please login or register in order to proceed.
Re: Rules for indoor
I think there is a chair person for indoor competition, not sure who it is, maybe someone can provide the name. Would be good if there was an open discussion about these comments with the committee right here in this forum.

CLIFFORD
Administrator has disabled public posting. Please login or register in order to proceed.
Re: Rules for indoor
Clifford - if you know who that is, feel free to invite him/her to join in!!

All judging is subjective in nature! The people I discussed this with were suggesting a standard value for tricks and you would get scored based on accomplishing those!! At this time, there doesn't seem to be any reward for trying difficult things! Unless it impresses the crowd, then the judges take notice! It appears that you could fly the simplest program, flawlessly, and get a better score than someone trying the most difficult of tricks, but maybe failing on one of ten!

I guess what I'm suggesting is some form of standardized judging, so you know going in that you have an equal shot!! Maybe I'm not the one to bring this up, as I'm a "soul" flier, nothing is pre-choreographed in any of my attempts! I just fly to the music!!

Maybe it's the next step in my evolution as an indoor flier, to create a routine, I don't know! Might mess up my groove with so much pre-planning and worrying about doing this or that at exactly the right time in a routine!

Like I said earlier, I just treat every comp as just another demo, I only fly to please me! If I've done that, the rest is all gravy!!
Administrator has disabled public posting. Please login or register in order to proceed.
There are 0 guests and 0 other users also viewing this topic
Board Stats

Total Topics:

1576

Total Polls:

11

Total Posts:

7359

Posts today:

1
User Info

Total Users:

4317

Newest User:

Members Online:

7

Guests Online:

6189
Powered by Agora Pro 4
© Copyright 2007 - 2014 jVitals! All rights reserved.