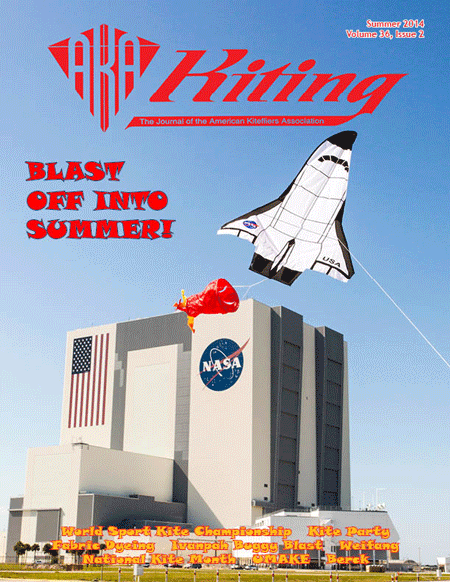 Kiting is a beautiful full-color magazine issued 4 times a year to all current members. Also check out the online-only
Kiting+
Home

Kite Talk Forum

Public Forum

Kite Making

Sewing machine help!!!!
» Sewing machine help!!!!
Re: Sewing machine help!!!!
Your local high school may have a home economics teacher who has a machine you might use at the school. However, I still think that the thread path might be the problem. The thread might not be properly aligned between the discs in the top thread tensioner. As the sewing proceeds, the top thread binds up and the bottom thread then loops due to insufficient tension. Try passing a sheet of paper through the top tensioning discs and play with the drag adjustment to determine if the rubber can still grip the thread in proportion to the dial settings. Finally, as a desperation measure, consider placing a small Velcro patch " sandwich" in the thread path. Try sewing with this additional friction on the thread. Next, place a single drop of a silicone lubricant for the thread to pass through on the Velcro patch. Try again.
Edited by: Captain Aether - 17-Jan-2014 05:37:33
Captain Aether
Administrator has disabled public posting. Please login or register in order to proceed.
Re: Sewing machine help!!!!
I know it's been awhile but I'll throw in my 2 cents. First, I know first hand how frustraiting it can be when you are fighting the sewing machine every step of the way. As if sewing a kite was not difficult enough.

You mention that you've cleaned the bobbin area. Have you removed the bobbin assembly and cleaned it out? I use a cue-tip and some rubbing alcohol. After that, place a drop or two of sewing oil on the racer parts of the assembly. Getting the hook back into he assembly is probably going to be a little tricky but it just takes some trial and error to find the right placement so that the assembly goes back together. It's my opinion this will almost always solve the problem. You can also take some fine emory cloth to the hook and make sure it's smooth. Just a little buffing will work.

Whenever you place the bobbin in the holder make sure the thread is always going the same way. Starting tension should be set by holding the thread with the bobbin hanging. A _slight_ dip and pull up motion should allow the thread to slide just a few inches. You should also start with the machine thread tension at the 2 setting. Sew for a good 20 inches (it make jam in the mean time but correct and keep sewing ). Move the machine tension up 1/2 numbers to see if things get better. Also try pulling the upper and lower thread to see if they feel close to the same tension.

You can also try changing the needle a couple of times. Go with a different brand as well. Needles are not created equal and in a pack one might not have been formed correctly. Also try a few different size needles. This can make a difference depending on the distance between the hook and the needle. Changing sizes can help compensate for this distance.

I've never done it but I hear that setting the timing is tricky and takes some time. I'd say $100 for this serve is reasonable. However, I'd not spend $100 on a $60 machine. You can buy another machine for $100? If so, I'd say it's a gamble on what condition it's in. Certainly a $60 machine can work very well, it might be worth wild to spend $150 or $200 on a good machine.
toddcopeland
Administrator has disabled public posting. Please login or register in order to proceed.
Re: Sewing machine help!!!!
You may want to contact Dave Colbert, I think he lives in your area. If you don't have his number, contact your RD for that info, or check the AKA member list for others that live in your area.
All of us are trying to troubleshoot from afar.
would you local dealer loan you a machine, say as a test drive before buying another one?
Good luck!
Time to Fly!
Barbara Meyer
AKA past president
barbarameyer
Administrator has disabled public posting. Please login or register in order to proceed.
» Sewing machine help!!!!
There are 0 guests and 0 other users also viewing this topic
Board Stats

Total Topics:

1576

Total Polls:

11

Total Posts:

7359

Posts today:

1
User Info

Total Users:

4317

Newest User:

Members Online:

10

Guests Online:

7694
Powered by Agora Pro 4
© Copyright 2007 - 2014 jVitals! All rights reserved.