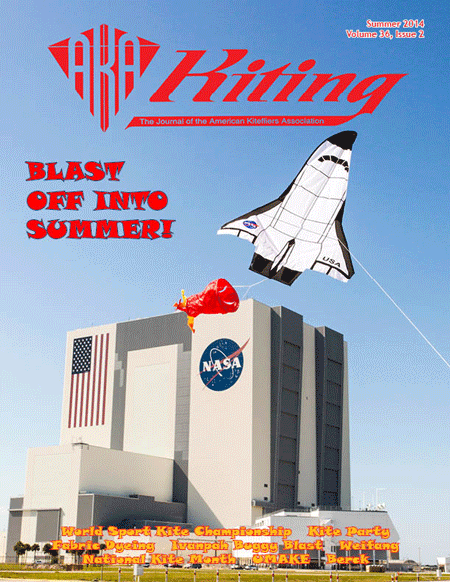 Kiting is a beautiful full-color magazine issued 4 times a year to all current members. Also check out the online-only
Kiting+
Home

Kite Talk Forum

Public Forum

Open Forum

Is this a forum?
Re: Is this a forum?
No disrespect, Wood-head, but I have a name and I don't need you to provide me with two new ones. My name is neither Jimmy nor Jimbo. Respect is obviously something you know nothing about, and since I contributed to this forum simply in the hope that it might be of interest to a few members, I don't need lessons from you on your version of the AKA's politics. Kites and kite-flying are my interests, not your ramblings. If you have a problem with that, go talk to a psychiatrist.

I don't intend to comment further on your remarks, if you are persistent enough to go making them, so don't waste your time..
Administrator has disabled public posting. Please login or register in order to proceed.
Re: Is this a forum?
jimnicholls wrote:

I contrast this forum with another that I follow which is about KAP. There, a posting asking for help or advice will find an immediate response from multiple sources, and items giving useful information receive various replies with the thanks of those who find the information useful. When someone has misfortune, condolences are expressed by many forum members. Because of regular exchanges, people get to "know" each other, even if they have never met. And there is an out-reaching to embrace newcomers and make them feel welcome.
THIS is the point I am trying to get across in my communications inside the Board, with Barbara and all the AKA officers. that there are NUMEROUS other forums and sources nowadays in the Kite world besides us, the AKA. Most of them started by AKA members and in the early days, ( before Facebook or even the Web) with information gathered from involvement with the AKA, as in kite friends and business contacts.
Hence, most people are going to the KAP related forum you mentioned, the kite making one, the "evolving" one and of course the "Revolving" ones, which are more specialized than we are here on specific kite genres and have formed close friendships amongst us kiters by being welcoming and positive.

That being said, WHAT can we do to Rebuild the AKA's original image as THE ONE RESOURCE holding Kiting all together. Perhaps our role now should be as a "Parent" body over Kitefliers and the other forums, groups, resources, like the KTAI is the parent association over kite businesses?

And WHAT should we do to build a better forum like the other ones are?


Woody wrote:

The minute you make a suggestion here someone wants to put you in charge. Everyone knows the same people do all the work year after year and they wouldn't have it any other way.
Good points Woody. You can put Barbara, Gary, David G, myself, Yourself, or Anyone "In Charge" but positive changes and advancements will be made with help and INVOLVEMENT from Everyone, not just the same ol' "Good Ole Boys & Girls" AKA Circle that many accuse us of being.

It starts with people using the AKA Forum here and other people actually Visiting, and responding Positively to the posts. Maybe we should start chatting more ON HERE about making kites, and hanging cameras from them!
AKA Region 7 Director
A Mile Hi Kite Club
Rocky Mtn Kite Assoc.
Joined early version of San Diego Kite Club in 1977
robinallenmccracken

AKA Region 7 Director
Administrator has disabled public posting. Please login or register in order to proceed.
Re: Is this a forum?
Jim and Robin,
Thank you for your positive words. Let's keep up the positive words and work for a better Forum.
Marla
AKA VP1
marlacmiller
Administrator has disabled public posting. Please login or register in order to proceed.
Re: Is this a forum?
I am relatively new, or should I say, after flying kites as a child over fourty years ago and I recaptured the thrill in April of 2011 with a 2 line stunt kite. Fortunately I have the means to support my passion. I have acquired over 94 different kites and have gotten the building bug. The most disappointing thing I have experienced is forums. I normally don't participate, but Jim is right. The main reason I have not joined in is because it became obvious there were only a select few who responded to post. Many of the post were very specific topics. Don't get me wrong, but I have found the more you can keep the topic "generic" the more interest was drawn. Examples: "How to build a kite - dos and don'ts"; "What kind of line to use for your kite" - "Signs of well made kites" -" Flying troubleshooting". I could go on for days. I hope I don't step on anyones toes with my next statement. I attended the Cape Fear Kite Festival last year in NC and was impressed, but was wondering where the kites were. My daughter asked why there were only large balloons being flown (Large inflatables). I am a simple person and basically enjoy the thrill of feeling the kite pull and play in the sky. I can't get enough of the fun you can have with a 2 line kite. I also enjoy watching children light up with a simple diamond kite. Jim definitely hit a chord. Where is the passion.
"When the wind blows..listen. You can hear it whisper..come and play."
sncflyer
Administrator has disabled public posting. Please login or register in order to proceed.
Re: Is this a forum?
I'm going to assume the snc in your name is for S. North Carolina. Where are you located? There is another kite festival up the coast whose emphasis is on flying kites. All kinds of kites. There are the large inflatables, a demonstration field for mass ascensions and exhibitions, and an open flying field for visitors to fly. All of it on the beach. It's the Carolina Kite Festival in Atlantic Beach, NC. It's held the last weekend in October. If possible you should check it out.

If you like, you can email me at photomom (at) hotmail.com.

Karen M.
Kites rise highest against the wind, not with it.
photomom
Administrator has disabled public posting. Please login or register in order to proceed.
Re: Is this a forum?
It's good to see some renewed interest in this post.

I have to agree with sncflyer about the way in which the giant Peter Lynn (and other) inflatables seem to be all that some kite festivals, and the attendees at them, seem to be interested in. The Peter Lynn factory is "just down the road" from me, their products are great, and I certainly don't want to detract from the great work the owners, Craig Hansen and Jenny Cook, and designer Simon Chisnall, do in carrying on Peter Lynn's innovative ideas. However, their products are definitely a "spectator" item rather than a participatory one, and I think that any festival organisers should take pains to avoid this aspect's total domination of their event. Kite-flying is very much a "hands-on" thing and giving people the idea that it is just for looking is a very negative way to go.

Naturally, at many events there will not be sufficient space for a free-for-all where everyone can fly. But if a public flying area is not possible, spectators should at least see kite-fliers in action with kite-line in hand, and preferably not just a Revolution display, which again is a spectator event and would not encourage most people to buy a kite and join in. We need to show that flying a kite, whatever it is, can be fun for everyone and does not need to cost a great deal to get into.

All a bit off topic, but I didn't want to start a new post.

Jim
Administrator has disabled public posting. Please login or register in order to proceed.
There are 0 guests and 0 other users also viewing this topic
Board Stats

Total Topics:

1576

Total Polls:

11

Total Posts:

7360

Posts today:

2
User Info

Total Users:

4317

Newest User:

Members Online:

6

Guests Online:

5894
Powered by Agora Pro 4
© Copyright 2007 - 2014 jVitals! All rights reserved.