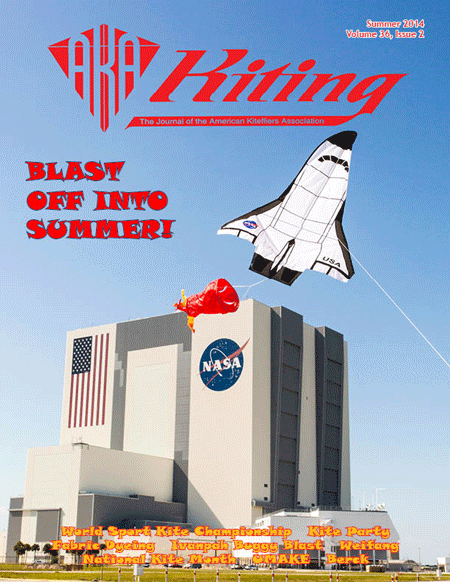 Kiting is a beautiful full-color magazine issued 4 times a year to all current members. Also check out the online-only
Kiting+
Home

Kite Talk Forum

Public Forum

Festival News

Wildwoods Int'l Kite Festival 2014
» Wildwoods Int'l Kite Festival 2014
Page
Start
Prev
1
Next
End
Wildwoods Int'l Kite Festival 2014
Wildwoods Int'l Kite Festival 2014
Hi Everyone!

I hope this initial communication finds you and yours all well and surviving the winter as best you can. I know it has been brutal for many of us on many levels all over the U.S., though I promise, there's light at the end of the tunnel - here in Orange County, NY, it's going to reach 50 degrees by the end of the week, which will certainly help in melting the 28" of snow that's fallen over the past three days!

So, it's that time of year again when I begin communications re the Wildwoods International Kite Festival. Attached (if applicable) is the registration form, which will also be available on the Sky Festivals web site soon. The Eastern League will also be posting this on their web site shortly as well. If you can't wait and want it sooner rather than later, feel free to email me and I'll email it to you directly.

This year's looking very strong, with some guests who haven't been around in a while and a new activity, though more on that in my next communication!

Our host hotel, The Oceanic, 609 522 6500, is accepting reservations for the event though be sure to mention the kite festival to receive the event pricing.

Mark your calendars for this year's event and I truly look forward to seeing everyone again in just 3 short months!

Warmly,
Beatrix

WIKF-14-Reg-Form.pdf
Administrator has disabled public posting. Please login or register in order to proceed.
Re: Wildwoods Int'l Kite Festival 2014
I assume that your rokkaku team challenge is a kite battle. What is the fighter kite line touch? how does it work and what type/size kite and line are used?

thanks,
bagriffith
Administrator has disabled public posting. Please login or register in order to proceed.
Re: Wildwoods Int'l Kite Festival 2014
Hi All,

As I promised, the "light at the end of the tunnel" has arrived – spring has sprung!

With WIKF only seven (7) short weeks away, there's a boat load of things to share with you!

Guests: We have some wonderful folks joining us this year, some who haven't been with us in a while and others who have never been with us. Characters includes Barry "Baz" Poulter; Kathy Goodwind; Tony Jetland and his other half Jennifer; Steve DeRooy; Meg Albers & her cousin Nancy Houston; and, thanks to the generous assistance of the South Jersey Kite Flyers (SJKF), Gary Mark and Walter Corsetti. There still may be a few folks added to the list which I'll share with you in the next post. With just this guest list alone, I truly just can't wait until WIKF to see these folks, I feel like a kid in a candy shoppe! Yes, we're going to have some fun!

Event "Selfie": Be sure to be a part of THIS photo op! While we may not crash Twitter like Ellen did at the Grammy's (?), we'll be sure to set the kiting world on fire with THAT photo!

SJKF: Where do I begin with this group of characters? The true "rock" club of the event, SJKF will once again host the Friday Night Social poolside at the host hotel, the Oceanic. The cost is a mere $10 per person for an all-you-can-eat buffet filled with some of the best food this side of the Mississippi. Festivities begin at 6:00pm. PLEASE FEEL FREE <  > to help them out with food donations and / or assistance prior to 6:00pm with food prep, table set up, food/cookware transportation, etc. There is a BOAT LOAD of work that goes in to making this Social happen so if you can spare even just a short period of time during the day on Friday, it would very, very much appreciated. Cel Dallmer is spearheading this festivity and she can be reached via mobile phone at 215 805 7498 or via email at cdallmer@verizon.net with your commitment to food donation and/or to time in assisting.

Kite Makers Competition: Once again this year we will have a Kite Makers Competition. Via the generosity of SJKF, the Scott E. Spencer Memorial Kite Makers Competition will include cash prizes and AKA membership! There are varied categories and a myriad of details about the Competition which all can be found on the WIKF Registration Form (available on our web site, www.SkyFestivals.com > Events). Be sure to check out this info and more importantly, "strut you stuff" by showing yourself and the kiting world what you're made of!

Lodging: Don't forget to make your lodging reservations! Our host hotel is once again The Oceanic. You may reach them at 609 522 6500 and be sure to mention you're a kite flyer / attending WIKF for a discounted rate.

Auction: This year's auction is once again shaping up very nicely! As always, if you have an item or items you'd like to donate, we're more than happy to accept them. Whether you donate or bid, we sincerely appreciate your support!


I'll post again in a couple of weeks with additional info so until then, safe winds to all and as always, I so very much look forward to seeing you all in a few short weeks!

Warmly,
Beatrix
Administrator has disabled public posting. Please login or register in order to proceed.
Page
Start
Prev
1
Next
End
» Wildwoods Int'l Kite Festival 2014
There are 0 guests and 0 other users also viewing this topic
Board Stats

Total Topics:

1572

Total Polls:

11

Total Posts:

7343

Posts this week:

1
User Info

Total Users:

4314

Newest User:

Members Online:

9

Guests Online:

7412
Powered by Agora Pro 4
© Copyright 2007 - 2014 jVitals! All rights reserved.